ePreserver Recovery for AOL
Recover deleted messages from your AOL personal filing cabinet.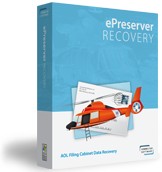 You are using a Mac, iPad or iPhone: ePreserver does not work on these devices. If you want to convert Windows AOL to the Mac, run ePreserver in Windows.
Don't Panic! If you use AOL 8 or 9.x, ePreserver Recovery can get back your email, whether you need a single deleted message or an entire corrupted filing cabinet. Uses the same professional technology we sell to law enforcement. Recovered items can be placed in Outlook or HTML files and will appear in a folder named "DELETED."
Important:
ePreserver Recovery only works with email Saved on Your PC with AOL 9.x (and earlier.)

Try the free evaluation to get a see what ePreserver Recovery can find.

If you read your email in your internet browser, such as Firefox or Internet Explorer, then ePreserver Recovery will not work.
ePreserver Recovery is designed to recover email that you filed under "Saved on My PC" in AOL 8 or AOL 9 (including 9.1 and 9.5.) ePreserver Recovery will NOT work if you read your email in your browser on www.aol.com, nor will ePreserver Recovery work with AOL 10 or AOL Desktop. If you aren't sure, click the Download link to try the demo. Your message must appear in the demo or it can't be recovered.
Forensic Investigators should use ePreserver Forensic instead.
Features
Automatically finds your current filing cabinet.
Aggressively probes your PFC files for deleted emails and corrupt folders.
Does not require that you still be a member of AOL.
Maintains filing cabinet folder structure for non-corrupt items.
Converts HTML email, text email, attachments, and all headers.
Easy for beginners.
Requirements
Platform:

Windows 7 / 8 / 10 / XP / Vista (Mac is not supported.)
ePreserver Recovery can recover deleted and corrupted information from the applications and formats shown below. ePreserver Recovery cannot recovere deleted messages if you read your email with your browser on www.aol.com.
You can recover data FROM these formats
Product
Address Book
Email Saved on My PC
Email Saved on AOL
ABX/ABY file
-
-
AOL 4-9.6
-
AOL 9.7, 9.8, 10.x
Not supported
AOL Communicator
Not supported
AOL Desktop
Not supported
PFC file
-
-
"Organize" directory
-
www.aol.com (in your browser)
Not supported
You can save recovered data TO these formats
Product
Address Book
Email
Microsoft Outlook 2003-2016
(32-bit only. 64-bit Outlook is not supported.)
Gmail
HTML files
Licensing
Licenses for ePreserver Recovery are valid for 48 hours from first usage.
You must purchase one license for each screen name. One license may be used to recover multiple filing cabinets as long as they are all from the same screen name.
Computer repair shops and technicians must purchase a separate license for each customer.
Common Questions
Will ePreserver Recovery work if I read my email with my browser at www.aol.com?

No. ePreserver Recovery is designed to work only with AOL 5 through AOL 9.5.

Do I still need to be a member of AOL to run ePreserver Recovery?

No. As long as you still have AOL installed, or you have a copy of your Organize directory or PFC file, ePreserver Recovery will still work.

Do I need to have AOL installed to use ePreserver Recovery?

Not necessarily. If you do not have AOL installed, then you must have a copy of your Organize directory.

What is the difference between ePreserver Recovery and ePreserver Forensic?

ePreserver Recovery is licensed to convert a single screen name. ePreserver Forensic is site licensed. However, ePreserver Forensic is only available to legal authorities and government agencies. See the Product Comparison.

Is technical support available?

Yes. There is a knowledgebase of common problems or you can submit a support request. Technical support is included for thirty days from your date of purchase. Conversions for legal investigations are not eligible for technical support with this product - use ePreserver Forensic instead.
Customer Service
Technical Support