Feb 19, 20
22
Connected Software is shutting down on Sep 30, 2022. See the
announcement
.
Address Magic Enterprise
Scalable email, address book and calendar migration with integrated reporting.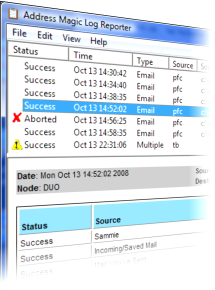 This product has been discontinued and is no longer available.
Address Magic Enterprise is your enterprise solution to the migration of contacts, email messages and calendars between Lotus Notes, Thunderbird, Eudora, Gmail/Google Apps, IMAP and Outlook/Exchange. Address Magic is in its ninth major version and is has been used in countries around the world for migrations from 50 to 50,000 mailboxes.
Connected Software provides exclusively Level 3 support (the highest level) to all Enterprise customers. Our engineers will work with you pre-sales to create a configuration that matches your deployment plan. Technical support is always included with licenses for no additional charge.
Microsoft Exchange Users: Also consider Epicenter Server to distribute your Global Address List to your Blackberry and iPhone users.
Features
Converts email, address books and contacts folders between Microsoft Outlook, Lotus Notes, Google Apps, GroupWise, Thunderbird, Eudora, and more.
Supports complete mailbox migration including folder hierarchies, HTML messages, attachments, embedded images, and message flags. (PLUS version)
Supports over 150 different fields, including names, postal addresses, email addresses, phone numbers, office information, birthday, comments, and many more.
Automatic field mapping between different address books.
Full distribution list support.
Direct access to Exchange and IMAP mailboxes allows automated, centralized conversion.
Automatically locates application data files and folders.
All operations are performed on the client. Nothing is installed on the server.
Formats
Address Magic Enterprise requires

Windows 10 / 7 / 8 / XP / Vista.
Address Magic Enterprise does not support all possible combinations of import/export. Supported operations are shown in the chart below. You can convert FROM any format that Address Magic can READ and you can convert TO any format that Address Magic can WRITE.
Product
Address Books
Email
Appointments / Tasks
Read
Write
Read
Write
Read
Write
Address Magic Backup
Yes
Yes
-
-
-
-
CSV
Yes
Yes
-
-
-
-
EML files
-
-
-
Yes
-
-
Eudora
Yes
Yes
Yes
-
-
-
Exchange Server
Yes3
-
See Microsoft Outlook
-
-
Global Address List (GAL)
Yes3
-
See Microsoft Outlook
-
-
Gmail/Google Apps
Yes8
Yes8
Yes8
Yes8
Yes8
Yes8
HTML files
-
-
-
Yes
-
-
iCal
-
-
-
-
Yes
Yes
IMAP
-
-
Yes
Yes
-
-
LDIF
Yes
Yes
-
-
-
-
LDIFDE (Active Directory)
-
Yes
-
-
-
-
Lotus Notes 4-8
Yes5
Yes5
Yes1,5
Use IMAP
Yes
-
Mac Entourage
-
Use LDIF
-
Yes
-
-
Mac Eudora
Yes
-
Yes
-
-
-
Mac Mail
-
Use vCard
-
Yes
-
-
MSG Files (Outlook)
-
-
-
Yes
-
-
Outlook 2003-2015
Yes3
Yes3
Yes
Yes
Yes
Yes
Outlook 97-2002
Yes3
Yes3
-
-
-
-
PAB files (Outlook)
Yes3
Yes3
-
-
-
-
Thunderbird
Yes
Use LDIF
Yes
Yes
-
-
vCard
Yes
Yes
-
-
-
-
Note #1: For message conversion, Notes 5 or later is required and Notes 6.5.4 or later is strongly recommended. Address book conversion is supported on Notes R4 and later.
Note #2: You must have Microsoft Outlook 2002 or later installed to perform this conversion.
Note #3: You must have Microsoft Outlook (any version) installed to perform this conversion. Outlook 2007 does not support the Personal Address Book (PAB).
Note #5: You must have Lotus Notes installed to perform this conversion.
Note #6: Windows Vista and Windows 7 only.
Note #7: This conversion does not work under Windows Vista or Windows 7.
Note #8: This conversion requires that the .Net Framework 4.0 be installed.
Licensing
You will need one license of Address Magic Enterprise for each mailbox to be converted. A mailbox is comprised of the email folders and address books for a single user. The number of computers does not matter and the person who actually runs the software does not matter. Licenses are not transferrable, even if the software is uninstalled.
FAQs
Common Questions
Do I need the original email application installed to read its address book?

You must have the original email application installed to read or write address books or email from Exchange Server, Outlook, GroupWise, Lotus Notes, Outlook Express, and Windows Address Book. If you need to go from one machine to another that has an incompatible address book formats, use Address Magic Backup (AMI) as the intermediate format.

What's the difference between Address Magic Enterprise and Personal?

See the Product Comparison.

What is the difference between the standard and PLUS versions?

You must have the PLUS version to convert email or calendars.

Are Lotus Notes email addresses converted to SMTP addresses?

Yes, as long as the original Lotus Notes server is still available.

Is technical support available?

Yes. Our support organization works with you to configure Address Magic Enterprise for your environment. There is no additional charge for service. There is also a knowledgebase of common problems or you can submit a support request. Phone support is available 9 to 5 Pacific Time on regular business days. Extended support is available for additional cost. Technical support is included for one year from your date of purchase. Technical support is provided to a single Primary Technical Contact.
Testimonials
Your product was AWESOME! It saved my butt and made my users so happy. Your product made me look like a miracle worker!
-- Harvey, A, Computer Network/Security Consultant
I just want to say that I am impressed with the service that you provide. There aren't really any companies that I know of that would take the time to contact a customer to let them know that a submitted error has been analyzed and resolved. We appreciate everything that you do!
Dave K, Technology Support Specialist
"Address Magic Enterprise made our GroupWise address book translation much easier and faster after our migration to Outlook. In addition, Connected Software's technical support was very responsive to my questions and issues while using the product."
-- Ted Cowan, senior director of IT for PowerQuest Corporation.
I will be definitely recommending your software for any future deployments on any migrations I work on.
-- David M, Migration Consultant, Australia
I would like to take the opportunity to thank you personally for your time over the last couple of days. I'm very impressed with your product, and especially your commitment to making sure that we were happy with the evaluation. I will have no problem whatsoever in recommending your software to anyone else who is undertaking a similar mail migration.
-- Steve W, Exchange Consultant, United Kingdom
I wrote the script and performed the conversion on a couple of clients...It worked flawlessly even on a very large contact list with 1000 entries. Thank you so much for your quick response on support issues. I will make sure that I recommend your product to all my friends and associates.
-- Gary C, IT Manager
| Customer Service | Technical Support | |
| --- | --- | --- |
| | | |
Icons courtesy http://pixel-mixer.com/.
Outlook, Gmail, Lotus Notes, and many other formats