ePreserver
Screenshots
ePreserver gives you step by step help for transferring your AOL address book, email and favorites with a five step "wizard." ePreserver automatically fills in all the blanks, so you can usually simply click "Next" five times.
1. Startup
When ePreserver starts, it first tells you what it is going to do.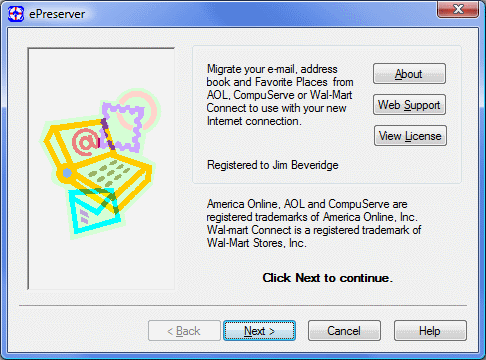 2. Choose what screen name to copy
ePreserver allows you to choose which screen name you want to use. If the AOL client is not installed, you can also choose the name of an AOL "Organize" directory to use.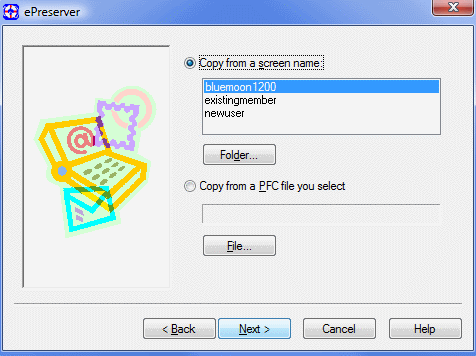 3. Choose what to copy
ePreserver allows you to choose exactly what you want to save from AOL. You can copy any combination of your address book, your favorites places, your email saved on AOL and your email saved on your PC.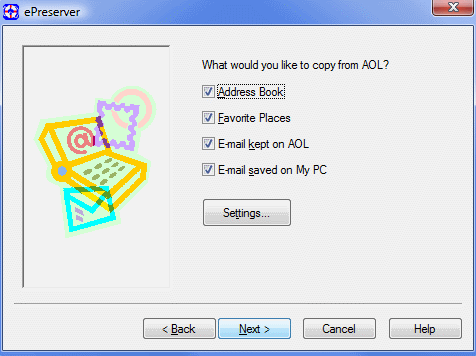 4. Choose where to put your address book and email
ePreserver can copy your address book and email to either Outlook or Outlook Express. ePreserver will only suggest possibilities that are safe for you to choose.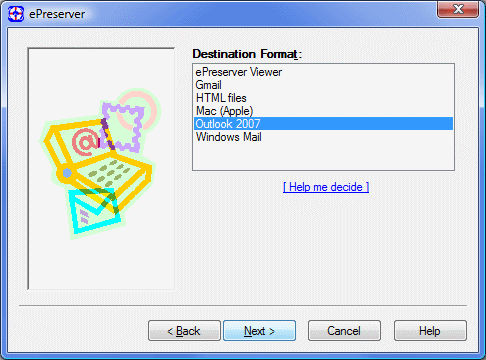 5. Ready to begin
ePreserver gives you a final summary of what will happen before it starts. Click "Finish" and everything from here happens automatically!