Knowledgebase
Solving "AOL is currently using the screen name ..."
Posted by Swift Admin on 09 January 2006 05:55 PM
(Applies to: ePreserver)
Symptom: When you try to convert your AOL Filing Cabinet, you get the error "AOL is currently using the screen name xxx" where xxx is your screen name.
Cause: The AOL data file is already in use because AOL is running.
Solution: Please perform the following steps:
1. Close ePreserver.
2. Start "AOL System Information" from your Start menu. It's usually in the AOL group.
3. Click "Utilities", then click "Close All AOL Programs".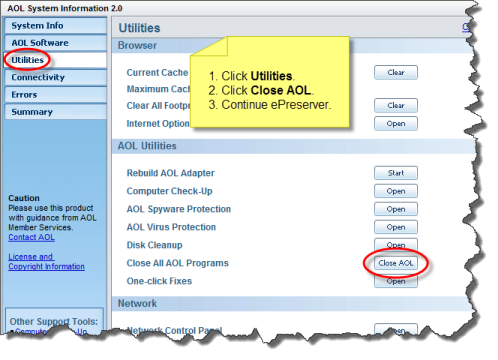 4. Restart ePreserver if it's not still running. You can find it on your Desktop. It's a white life preserver on a blue background.
Do not restart AOL until ePreserver is finished.
---