Expert Lotus Notes to Outlook Conversion
Have you tried other solutions for converting Lotus Notes to Outlook that create unreadable emails, lose attachments, don't convert email addresses, or lose your folder structure? Are you looking for a solution for converting client-side Notes files to Microsoft Outlook that works predictably and reliably, over and over again?
Address Magic solves these problems and many more. Address Magic Personal is an affordable solution for single users who have Notes NSF files to convert. Address Magic Enterprise contains additional features needed for large scale migrations with enhanced support for Microsoft Exchange mailboxes.
Address Magic Personal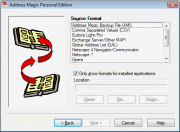 Address Magic Personal quickly and easily copies your email and/or address book from Lotus Notes to Microsoft Outlook. Address Magic automatically finds your default address book and default archive, or you can choose any other NSF file.
Copies all contact information, not just the name and email address.
Converts Notes rich text email, Internet email, attachments, and all headers. (PLUS version)
Converts Notes appointments and tasks. (PLUS version)
Same advanced migration technology as our corporate product.
Praised by the Wall Street Journal.
Simple enough for beginners, powerful enough for experts.
More information...
Address Magic Enterprise
Designed for organizations migrating from 100 to 100,000 mailboxes, Address Magic Enterprise gives you all the functionality of Address Magic Personal plus features designed for deployment to the enterprise:
Command line operation to minimize deployment training time.
Configure Once, Run Everywhere (CORE) design allows fully automated operation.
Exchange-specific features for centralized migrations.
Automatically translates Notes email addresses to SMTP addresses.
More information...
|
Request Evaluation