ePreserver Forensic
This product has been discontinued and is no longer available.
Reliable AOL forensic analysis software - Recover deleted messages and corrupted folders from AOL filing cabinet (PFC) files. Recovered messages include full formatting and headers.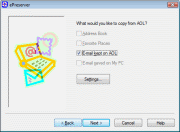 Platform:

Windows 7 / 8 / 10 / XP / Vista
(Macintosh is not supported.)
Audience: Only available to law firms, law enforcement, and government agencies.
Availability: In Stock. Immediate download after purchase.
Return Policy: 30-day, 100% Money Back guarantee.
Upgrade Policy: Requires annual subscription.
Features
Deep scans AOL Personal Filing Cabinet (PFC) files to find all deleted or lost messages.
Converts all header information, including all available dates.
Converts all address book fields, including distribution lists.
Includes extensive documentation on AOL directory layouts.
Maintains folder structure during conversion.
Converts HTML email, text email, attachments.
Includes quick-start wizard app and batch-driven command line version.
Site license eliminates license-compliance complexities.
Standards-based extraction ensure compatibility with analysis tools.
Product Description
ePreserver Forensic Edition (EFE) is the premier tool for extracting forensic data from filing cabinets from AOL 4 through 9. (AOL Desktop is not supported.) Easily extract messages and contacts, including encrypted data and deleted items, even if AOL is not installed. Once you've extracted the email from the PFC file, the email can be analyzed and filtered with your existing tools, thereby reducing your learning curve and allowing EFE to fit seamlessly into your existing toolset.
EFE extracts all email data from AOL, including Internet headers, dates, times, inline images, HTML bodies, recipients and the complete folder hierarchy. EFE also extracts "newmail" messages that were received from the AOL server. EFE even extracts contacts and distribution lists from AOL address books, including deleted entries.
EFE copies the AOL data to other popular email clients, including Outlook, Outlook Express, and standard "mbox" format, where it can be handled by forensic analysis tools. ePreserver uses the same technology as our popular ePreserver tool, in use by tens of thousands of people worldwide.
Supported Formats
The applications and formats supported by ePreserver are shown below. You must still be a member of AOL or CompuServe to convert your email from "Email Saved on AOL or CompuServe." Deleted emails can only be recovered from PFC files from AOL 4-9. Deleted emails cannot be recovered from any of the other formats.
You can convert FROM these formats
Product
Address Book
Email
Favorites
AOL 4-9.6
AOL 9.7, 9.8, 10
Not supported
AOL Desktop
Not supported
AOL Communicator
-
-
CompuServe 2000+
PFC file
"Organize" directory
www.aol.com (webmail kept on AOL)
-
You can convert TO these formats
Product
Address Book
Email
Gmail

Yes

HTML files

Yes

Microsoft Outlook 2003-2016
(32-bit only. 64-bit Outlook is not supported.)
Licensing
ePreserver Forensic is licensed per-facility. Product activation is logged by Connected Software, but product usage is not.
Licenses are valid for one year. License renewal requires payment for subscription updates. All upgrades, major and minor, are included in the subscription.
Common Questions
Will ePreserver Forensic make any changes to the original AOL data?

No. All files are opened read-only and will never be modified.

Do I need to have AOL installed to use ePreserver Forensic?

No. ePreserver Forensic operates independently from the AOL client.

What is the difference between ePreserver and ePreserver Forensic?

ePreserver Forensic licensing terms are designed specifically for forensic analysis facilities, where the number of files to be analyzed and the number of people using the software cannot be estimated in advance. The actual number of files migrated is not counted and conversion information is not reported to licensing servers. ePreserver also includes batch-driven and scripting capabilities. See the Product Comparison.

Is technical support available?

Yes. There is a knowledgebase of common problems or you can submit a support request. Up to three support incidents per year are included in the base price.
Related Products
Home or business user? Use ePreserver Recovery to recover deleted emails and corrupt folders.
Price
Product Description
Price

ePreserver Forensic

Recover deleted messages and corrupted folders from AOL and CompuServe filing cabinets. Site license for one geographic location. Includes one year subscription.

$690.00
Contact Sales

Annual Subscription Renewal

$195.00
Contact Sales
| Customer Service | Technical Support | |
| --- | --- | --- |
| | | |
Only available to law enforcement