Buy Address Magic Personal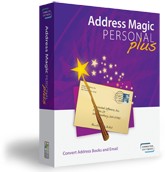 Home users may use Address Magic Personal for up to two people in the same household. Business users require one license for each mailbox to be converted. A mailbox is comprised of the email folders and address books for a single user. Licenses are not transferrable to other users, even if you uninstall the software.
Computer repair shops and technicians must purchase a separate license for each end-user. For quantity discounts, click Quantity Pricing below.
Converting Email, Calendar and Tasks requires the PLUS version.
Product Description
Price

Address Magic Personal PLUS

Migrate your email, calendars and address books.

Address Magic Personal

Migrate your address books.

$29.95


Order by phone
Quantity Pricing

Upgrade standard version to PLUS

You MUST have the standard version installed and registered to use this upgrade. If you do not see an "Upgrade" button when you run Address Magic Personal, please download and install the latest version of the software. You must have Build 380 or later to use the upgrade registration code.

$24.95


Order by phone
Quantity Pricing