Feb 19, 20
22
Connected Software is shutting down on Sep 30, 2022. See the
announcement
.
ePreserver
Transfer your AOL e-mail, address book and favorite places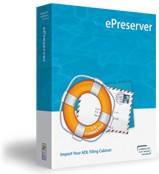 You are using a Mac, iPad or iPhone: ePreserver does not work on these devices. If you want to convert Windows AOL to the Mac, run ePreserver in Windows.
ePreserver is the simplest way to:
Copy your AOL mail and contacts to Outlook or Gmail.
Convert your AOL favorites to Internet Explorer.
Export your AOL data from Windows to the Mac.
With ePreserver, we guarantee you can do all this and more with just Five Clicks!
That's all it takes to migrate your AOL e-mail, folders, address book and favorite places to Outlook, Gmail, or even the Mac!
ePreserver supports AOL 9.x, AOL Desktop and AOL webmail. See the Requirements tab below for details.
AOL Gold Users
When running ePreserver, AOL Gold users should choose "www.aol.com" as the source format. ePreserver cannot read messages saved on your PC in AOL Gold, but ePreserver CAN read email from www.aol.com. ePreserver can also read your old PFC file from versions of AOL before AOL Gold.
| | |
| --- | --- |
| As featured in: | |
Features
Convert your AOL e-mail, folders, address book and favorite places using ePreserver is easy. Your original information in AOL will not be changed in any way. If you use AOL 8, 9 or 10, ePreserver works even if you've already left AOL! AOL Gold users should read the section above titled "AOL Gold Users".
Customers often tell us, "I can't believe that it worked!" ePreserver has appeared in articles by PC Magazine, USA Today, The Chicago Tribune, The Washington Tribune, Google Answers, Mr. Modem, and Data Doctors.
Automatically finds your AOL PFC file (Personal Filing Cabinet) and your new email application.
Supports multiple screen names.
Converts all address book fields, including distribution lists.
Copies your information even if you are no longer a member of AOL.
Maintains filing cabinet folder structure.
Converts HTML email, text email, attachments, and all headers.
Easy for beginners.
Formats
ePreserver requires

Windows 10 / 7 / 8.1 / XP / Vista.
The applications and formats supported by ePreserver are shown below. You must still be a member of AOL or CompuServe to convert your email from "Email Saved on AOL or CompuServe."
You can convert FROM these formats
Product
Address Book
Email Saved on My PC
Email Saved on AOL or CompuServe
Favorites
AOL 4-9.8
✔
✔
✔
✔
AOL 10.x
✔
✔
✔
-
AOL Gold
choose www.aol.com instead
www.aol.com (in your browser)
✔
n/a
✔
n/a
AOL Desktop 10
✔
✔
✔
-
PFC file
✔
✔
✔
✔
"Organize" directory
✔
✔
✔
✔
You can convert TO these formats
Product
Address Book
Email
Gmail
✔
✔
HTML files
✔
✔
iCloud
✔
✔
Yahoo!
✔
✔
Microsoft Outlook 2003-2016
(32-bit only. 64-bit Outlook is not supported.)
✔
✔
Thunderbird
See article
Favorites are normally converted to Internet Explorer, unless you are converting to the Mac. You can convert favorites to Firefox or Opera by first converting to Internet Explorer, then telling Firefox or Opera to import favorites from Internet Explorer.
Licensing
This software is free to use in personal and commercial environments, but it may not be resold.
FAQs
How do I transfer my AOL information to a new computer?

See our knowledgebase article on how to do this. However, ePreserver does not allow you to use your filing cabinet with AOL on the new computer.

Can I use ePreserver if I read AOL email in my browser at www.aol.com?

Yes. The only limitation is that distribution lists will not be converted from your address book.

Do I still need to be a member of AOL to run ePreserver?

Not necessarily. As long as you still have AOL installed, or you have a copy of your Organize directory, ePreserver will still work. If ePreserver asks you for your screen name, just click Cancel.

Will my original AOL data be affected (in other words, does ePreserver move or copy the data)?

ePreserver copies your AOL filing cabinet, so no change is made to any of your AOL data.

Do I need to have AOL installed to use ePreserver?

No, you do not need AOL installed. ePreserver can convert PFC files and can convert email from www.aol.com even if you do not have AOL installed.

Is technical support available if I have a question?

There is a knowledgebase of common problems but no other support is offered since this software is free.
Details
I had to email you and tell you how AWESOME and AMAZING your product is!!! You save me a ton of time and effort!! Your online support was so helpful and wonderful as well!!! I love this product and will for sure share it
when others ask.
-- Amy (from Illinois)
Thank you! I already purchased ePreserver and it is AWESOME! I have tried other programs and nothing worked as quickly and easily as ePreserver!!
-- Rickk (from Tennessee)
I just used your ePreserve program to transfer almost 2,000 addresses and it took me less than 10 minutes to buy the program, install it, and do the transfer. Very nicely done!
-- Josha
Just wanted to thank you for an excellent product. I was able to easily convert my wife's 23,000 business emails to Outlook 2003. This is a fantastic improvement over what we had before.
-- Richard (from California)
Everyone told me I couldn't transfer all my folders and addresses from AOL to Outlook. This was a snap! Thanks a million.
-- Linda (from Washington DC)
OH MY GOD IT WORKED!!!! Five years of research that I thought was safe on AO was gone. Nothing worked, I tried everything I could think of or find online for two weeks. I am one happy person.
-- Candace (from California)
Your software really provides a fantastic service. Anyone who feels they are locked into AOL, now there is a quick and easy solution to move to a new email client. This product worked perfectly, the moment I installed it, and I transfered over 10 years of AOL address's and email in folders for all my accounts.
-- Todd (from California)
Thank you for your very prompt response. And many more thanks for this software. It is the best money I've spent in a long time and I will definitely recommend it to my friends!
-- Dawn Newman
I purchased it and the product works GREAT !!! Very easy to use, and ran flawlessly.
-- Marc Shapiro
I have lots of experience downloading software that didn't quite measure-up to its promises--ePreserver has exceeding my expectations! Thanks!
-- Tom (from Texas)
Just to say you guys rock! fantastic over 600+ plus favourites in a matter of seconds.. this would have taken me hours! Amazing product I cant say how happy I am I was dreading this part of changing ISP and this did it with no blood sweat or tears. Thank you.
-- Carol K (from Great Britain)
It worked! It's wonderful! It's simple! It did exactly what I would have wanted it to do with the duplicates! It saved me hours! It's a God-send! Finally, I can get out of Compuserve!!! Many, many thanks to you and your whole crew there!
-- Camille (from Texas)
Thank you for the software. Just brilliant. In a matter of minutes all my email plus address books are transferred and readable.
-- Brian (from the United Kingdom)
The software worked perfectly - thank you! I have been looking for something like this for a long time - now I can finally cancel AOL.
-- Stephanie (from New Jersey)
ePreserver paid for itself in one night. It converted AOL folders and files that I needed in Outlook even though I continue to use AOL. It was amazingly simple and elegant such that even if you told me how to do it, it was worth the money to get the job done right and fast even if the solution is more manageable than I might guess. I converted thousands of e-mails and can now use Outlook etc. to archive and manage those important, to me, files.
-- Daniel (from California)
I just purchased your program and it is absolutely FANTASTIC! What a product! I had over 400 links to transfer from AOL to IE and that literally would gave taken me hours to do so if I did it manually. With your unbelievable, completely automated, amazing software, the process was accomplished in a few seconds with one click! WOW! All I can say is thanks for a truly outstanding utility.
-- Richard (from New Jersey)
Customer Service
Technical Support